Main content starts here.
North Hall
---
The North Hall of Fujisan Heritage Center is a general Information Center for Fujisan.
Useful information for your sightseeing around Fujisan and Fuji Five Lakes, etc. is available here.
Fees (North Hall)
No charge
Days closed (North Hall)
Opening every day of the year
Opening Hours (North/South Halls)
Admission ends 30 min before closing time.
9:00am–5:00pm
(July – August : 8:30am– 6:00pm
December – February : 9:00am–4:30pm)

---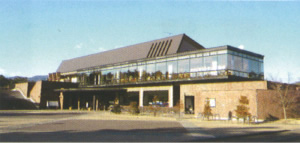 Floor map of North Hall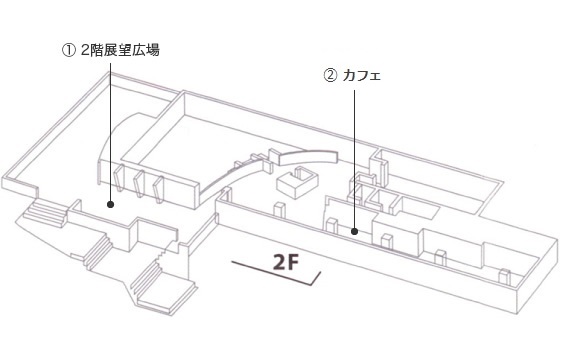 1) 2F: Observation square
Enjoy Fujisan's majestic view spreading before your eyes.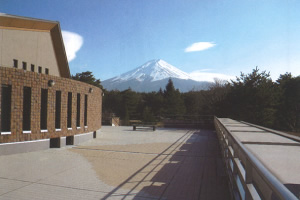 2) Cafe
Take a rest while enjoying the view of Fujisan.
A complete take-out menu is available, too.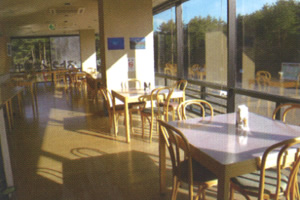 3) Exhibition room
"Worship" exhibition zone
Fujisan, the object of faith since ancient times
Fujisan and the Component Parts of World Heritage Site around Fujisan are introduced.
"Nature" exhibition zone
Easy to understand introduction of the natural history and other features of Fujisan and its vicinity
"Art" exhibition zone
Various creative activities using Fujisan as a theme are introduced.
Guidance theater
Videos including "The formation of Fujisan" are screened in 4 languages.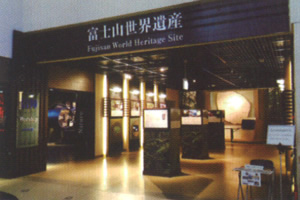 4) Shop
Souvenir items unique to Fujisan and Yamanashi are available.